Pin Mixer SM
The pin mixer SM is a development incorporating the know-how of the well-known GTA Dynamic Flow Mixers RM. It is particularly suitable for continuous mixing, dispersing and homogenizing processes in which high shear forces are required.
Utilisation
The main application areas of the SM pin mixer are in the production of dairy products, confectionery and bakery products as well as chemical, pharmaceutical and cosmetic products.
Due to the high demands placed on hygiene in these areas, the pin mixer SM is made of V4a, material no. 1.4571 (316L). Mixing shaft and housing are interchangeable. For cooling or heating the standard double mantle can be used.
The connections are available as Whitworth pipe threads, flange to DIN, milk pipe thread to DIN 11851, SMS and aseptic flanges according to DIN 11864, but other connections are also possible according to customer requirements.
In order to meet the individual requirements of the production processes, the Aeration Mixer BM can be selectively operated by means of electric motors or helical gear motors in conjunction with frequency converters or mechanical variable speed gears.
The pinmixer SM is offered in three standard sizes or customized according to customer specifications.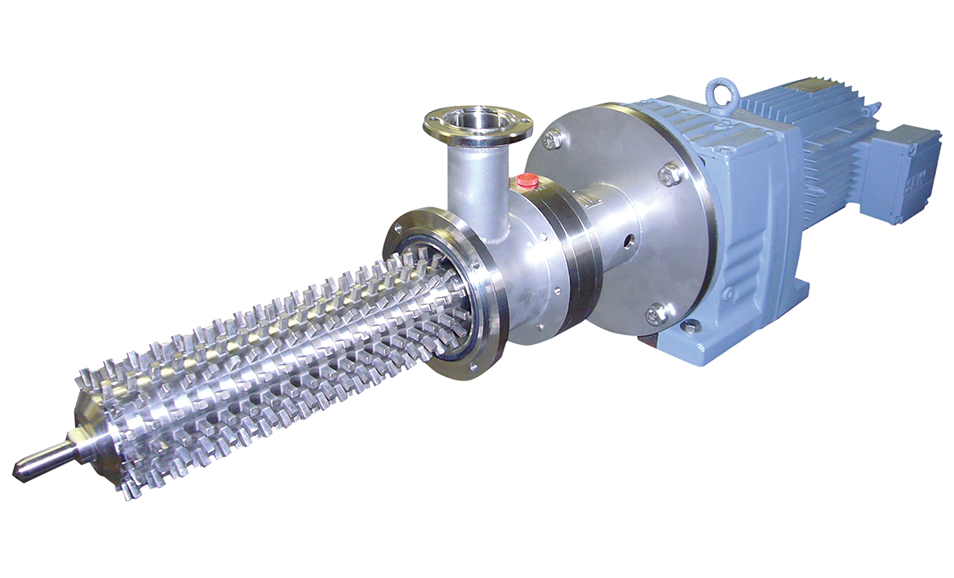 Application
Dairy products

Confectionery

Bakery products

Chemical, pharmaceutical and cosmetic products
Design
Material: V4a (material No. 1.4571.316L)

Connections: Whitworth pipe thread, flange to DIN, milk pipe thread to DIN 11851, SMS and aseptic flanges to DIN 11864; Other connections are possible

Seals: Radial shaft seal rings and mechanical seals

Drives: All commercially available controlled and non-controlled drives (electric, spur-gear and variable speed geared motors)

Speed ​​control: variable speed or frequency converter

Design: Horizontal design with gear foot or vertical design with foot flange; Other construction possible according to customer requirements

Mixing shaft and housing interchangeable

Double jacket for cooling or heating
Size
Although the pin mixer is generally built according to the customer's requirements, GTA offers the following three standard sizes
(Maximum throughput based on H₂O)
Type SM # according to customer requirements