Dynamic In-line Mixer RM
The Dynamic In-line Mixer RM offers performance, precision and hygiene for the food industry, the chemical and plastics processing industry and for numerous other process engineering mixing processes.
Utilisation
The range of performance of the Dynamic In-line Mixer RM includes agitation, mixing, reacting, diluting, coloring, homogenizing and much more for many different raw materials and precursors.
These include low- and high-viscosity liquids, substances with crystalline and lumpy portions, acids and alkalis, cold and hot media, powder / liquid mixtures and pastes in dairies, sugar factories, the baking and meat industry, the pharmaceutical and cosmetics industries, and the plastics processing industry. Plant builders and planning offices appreciate this versatility in the equipment of large industrial plants.
The Dynamic In-line Mixer RM is the variable tube mixing system for a wide range of industrial mixing processes. For the homogenization of butterfat, for the production of cream quark and fruit yoghurt, shampoos and lotions. For the agitation of lump-free liquid doughs, for the coloring of PVC pastes and viscose in the artificial bowel production. As a reaction mixer in the polymer preparation such as Polyurethane and silicone. For mixing fruit in ice cream and acids and aromas in jam and fruit gum. The Dynamic flow mixer RM is always a product tailored to the media to be mixed.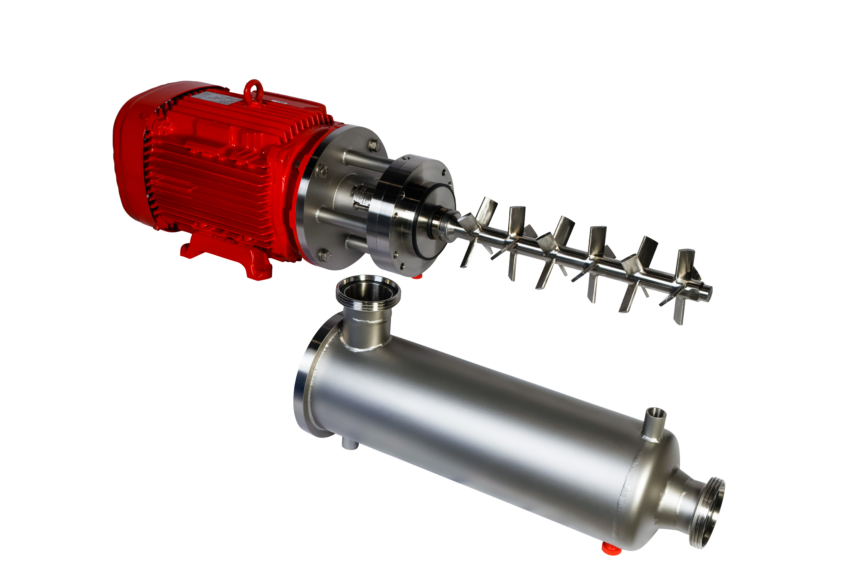 Versatile application possibilities and adaptation to customer requirements
The Dynamic In-line Mixer RM is characterized by simple inline integration, which can be done according to customer requirements. Due to its variability in the housing dimensioning, the type and interchangeability of the mixing elements as well as the rotational speed even during operation, it has an adaptability which static mixing systems can not offer.
The integration and installation of the Dynamic In-line Mixer RM are easily possible thanks to the design according to customer requirements. Thus it can be installed and used in an existing pipeline, as a direct installation in an existing plant, in a horizontal design with a gear foot, in a vertical design with a foot flange and many other variants. According to the specifications, the connections on the product side are designed specifically for each individual installation. As a result, the Dynamic In-line Mixer RM becomes a product suitable for all requirements.
The operating range of the Dynamic In-line Mixer RM covers a wide spectrum. For example, it can be used with a viscosity of up to 500,000 mPas, temperatures of -30 ° C to + 240 ° C and operating pressures of up to 300 bar. In doing so, it operates without a significant pressure drop, even when speed is increased.
The Dynamic In-line Mixer RM is unobtrusive against lumpy parts and, if desired, can be heated and cooled via a housing jacket, can be regulated in the speed of rotation and can be controlled via the speed adjustment in the mixing quality without disassembly even during operation. The device is CIP-cleanable.
The Dynamic In-line Mixer RM consists of a drive and a tube housing with a mixing shaft running in it. On this mixing shaft the mixing tools and mixing elements are welded. The mixer is made of V4a stainless steel, material no. 1.4571 (316L). The connections are Whitworth pipe threads, flange to DIN, milk pipe thread to DIN 11851, SMS and aseptic flanges according to DIN 11864, but other connections are also possible according to customer requirements.
The sealing of the flow mixer is done by radial shaft seal rings and mechanical seals . The Dynamic In-line Mixer RM can be used with any commercially available controlled and non-controlled drives. These include electric motors, spur geared motors and variable speed geared motors. The speed of the mixer can be variably controlled by means of a variable speed gear or frequency converter.
Application
food industry

chemical industry

many other mixing processes

dairies, sugar factories, bakery and meat processing industries

pharmaceutical and cosmetics industries, plastics processing industry
Materials
low to high viscosity fluids

masses with crystalline and lumpy portions

acids and alkalis

hot and cold media

powder and liquid mixtures
Operating range
Viscosity up to 500,000 mPAS

Temperature -30 ° C to + 240 ° C

Operating pressure up to 300 bar (without significant pressure drop)
Sizes
Type RM# according to customer requirements
Functions
stir

gently intermingle and mix

react

dilute

dyeing

homogenizing of butterfat

manufacture of cream quark, fruit yoghurt, shampoo, lotions

mixing fruits in ice cream

mixing in acids and flavors in jam and fruit gum

stirring of lump-free liquid doughs

dyeing of PVC pastes and viscose in artificial bowel production

reaction mixer in polymer production (polyurethane, silicone)
Characteristics and integration
installation in existing pipelines

direct installation in existing systems

easy in-line integration

integration according to customer requirements

specific connection as required

unaffected by lumpy portions

housing can be cooled and heated

adjustable in rotation speed

the mixing quality can be controlled via the speed adjustment during operation without disassembly

CIP cleansing
Design
Drive with tube housing and mixing shaft running in it

Welded mixing elements

Material: V4a (material No. 1.4571, 316L)

Connections: Whitworth pipe thread, flange to DIN, milk pipe thread to DIN 11851, SMS and aseptic flanges to DIN 11864; other connections are possible

Seals: Radial shaft seal rings and mechanical seals

Types of drive: all commercially available controlled and non-controlled drives (electric, spur-gear and variable speed geared motors)

Speed ​​control: variable speed or frequency converter

Design: Horizontal design with gear foot or vertical design with foot flange; other constructions possible according to customer requirements